Future Assets Investment Competition
Six of Dunfermline High School's S6 pupils recently took part in the Future Assets Investment Competition run by Future Asset and supported by Rathbone Investment Management Limited. The competition focuses on developing the ability of girls in Scotland to consider and experience the world of investment.  
The girls took part in a number of masterclasses to upskill themselves, developing things such as teamwork, presenting, body language, preparing business reports and researching organisations. The transferable skills they spent time enhancing during the masterclasses served them well in the competition and beyond.  
As part of the Future Assets Investment competition, the girls had to choose a business to invest in, prepare a report highlighting why this is a great company to invest in and to create a 3-minute pitch to convince judges that their business was the best choice. 
The S6 girls were paired up with Dean Young, CFA, an Investment Director at Rathbone Investment Management Limited, and worked with him to create a great pitch on the company they chose to invest in. Dean played an active role in advising the pupils and helped them as they prepared for their pitch. 
The pupils worked together as a team to ensure they met their deadline for submitting their recommendation and pitch to the judges. Unfortunately, our pupils did not progress to later stages of the programme, however they gained a lot from the experience.
Upon reflecting on the experience, here's what the girls had to say: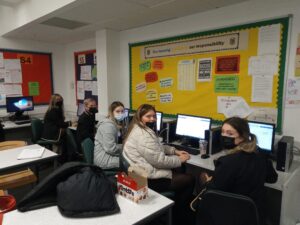 Millie M, an S6 pupil said,  
"This was a fantastic experience which enabled me to understand how to use and understand business data. We had to use a range of facts, figures and more to deliver a presentation and justify our investment choices. My confidence has increased because of this and it has set me up well for studying business in university"
Mollie A, an S6 pupil said,   
"Being in the Future Assets programme gave me an insight into Investment Banking and business generally. We took part in calls with business people alongside other schools and this helped me see how females can be leaders in business. I developed my teamwork skills and grew my confidence."