The DYW Skills Academy provides young people with the insight, knowledge, and skills they need to build their confidence and prepare for the world of work.
Through a blend of online Digital Resources, interactive Employer Sessions and One to One Support young people can explore key themes in the world of work, engage with a range of employers and apply their learning to develop their employability skills.
Balwearie High School in Fife was the first school to run an in-person pilot of the employer sessions portion of the Skills Academy in June 2022. The sessions were run for the new S4 cohort and young people were selected to take part who had been identified as wanting to leave school at the end of S4 and the programme aimed to support them in that transition.
The school ran four workshops in total as part of the pilot – Personal Brand, Rights and Responsibilities, Life at Work and Working with People.
The Personal Brand session was delivered by Jade Burt who is a Senior HR Business Partner at Amazon. Jade encouraged the young people to think about their own personal brand and how they can incorporate it into job applications and interviews. They discussed what employers look for when hiring someone and the young people were tasked with talking about their strengths and skills.
Amazon's involvement in the programme was extremely well received by the young people given their global recognition while Jade was able to provide insights into how the business operates.
The second session was delivered by Alison Callum, a former pupil of Balwearie High School and founder of Balwearie Connect. Balwearie Connect is the school's network that reunites former pupils and is used by various departments within the school to engage with businesses to deliver industry insight and provide work experience opportunities for pupils. Alison delivered the Rights and Responsibilities session. She delivered her session as an independent party, having previously worked at Scottish Widows and most recently taken a post in the Scottish Government.
Alison's session allowed the young people to think about their rights and responsibilities as an employee entering the world of work and what the expectations are of an employer. The session sparked discussion from the young people around their current jobs and who their dream employer would be and why.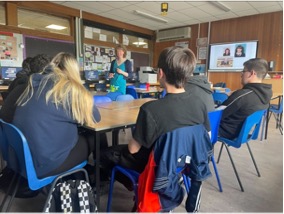 Shona Laing who is Head of Business Services and Executive Assistant at Exporta Global delivered the Life at Work session. Shona engaged the young people in discussing the things you need to consider when starting a new job such as what uniform to wear, knowing where to go when you arrive and first impressions. Shona emphasised throughout her session that when you first start in a job you shouldn't be afraid to ask questions.
The final session, Working with People, was delivered by Pete Mitchell, owner of Puddledub. Pete was delighted to be involved as a local business owner and spoke to the young people about the skills required to engage with customers and working with people. Pete shared his career journey from when he left school to where he is now. Pete also covered first impressions and emphasised that no matter what job you go into that communication is key.
The pupils who took part in the pilot were asked to highlight one thing they learned from the Skills Academy and they said,
"It doesn't matter about what grades you get in school, you can still be successful"
"You only have one chance at a first impression"
"You can do anything you put your mind to"
Following the success of the pilot programme, Balwearie is in further talks with Amazon and Puddledub to arrange to take young people for site visits of their facilities.
The programme has now been evaluated and is in the process of being rolled out to all regional DYW groups nationally. Sophie Dawes, DYW National Projects Manager, said,
"We are really grateful to DYW Fife and Balwearie High School for their involvement in the Skills Academy pilot activity. Simone, the DYW Coordinator at Balwearie, has put a huge amount of effort into engaging with employers in delivering the in-person employer workshops and has been integral to the success of the programme."